Tom Tykwer, director & script based on the novel by Dave Eggers
Starring: Tom Hanks (Alan Clay), Alexander Black (Yousef), Sarita Choudhury (Dr. Zahra Hakem), Sidse Babett Knudsen (Hanne)
What's happened to the American Dream? In A Hologram for the King, director Tom Tykwer's take on Dave Eggers' novel, the dream has morphed into a hologram conferencing device, which might save a down-and-nearly-out salesman's career. Alan Clay, an endlessly adaptable corporate peddler, has gone to Saudi Arabia to sell the King on a very pricey new media gadget that will allow deals to be conducted long distance with—effectively—the phantoms of big business people. Only middle managers like Clay will have to sweat it out in the King's new Economic City; the real moneymen won't even have to go there to get business done.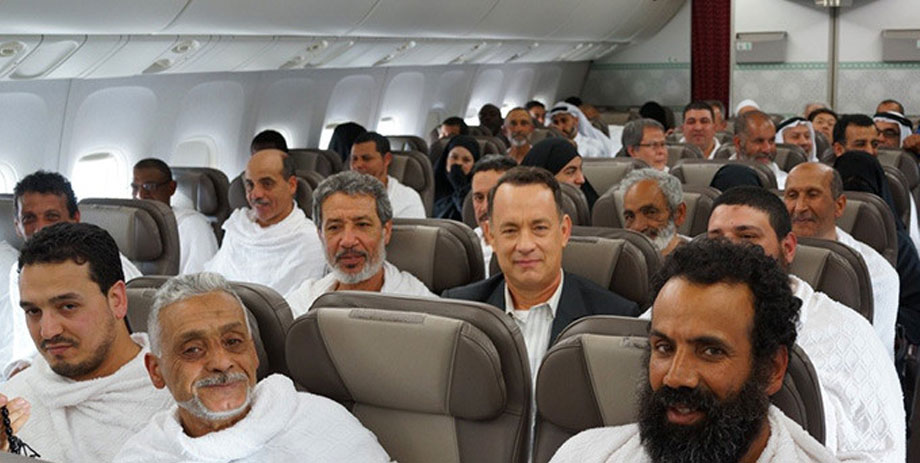 In a brilliant piece of casting, Tom Hanks plays Alan Clay, the salesman who has lost his wife and best job—he had unloaded the manufacturing of the all-American Schwinn bicycles to China—and is now gambling his future on getting Saudi Arabia's monarch to bankroll his new company by buying their communication system. Hanks is this generation's Everyman, the successor to such previous good-hearted Americans as Jack Lemmon and Jimmy Stewart. Like them, he played idealists when he was younger but has grown darker as he matured.

A Hologram for the King is a strange film. Like Eggers book, Tykwer's film shifts tone repeatedly. Is it a comedy? The scenes between Hanks' Clay and his very Westernized driver Yousef are certainly funny but they don't have much to do with the central story. The romance between Clay and his Muslim doctor Zahra also seems beyond the point—it's the standard fantasy of a middle-aged man finding love with an exotic, younger woman.
Certainly, the locale is perfect. Saudi Arabia and the Gulf States—Dubai, Abu-Dhabi, etc.—have become the craziest and fullest expression of capitalism run riot: huge apartment and business towers, endless highways, high end restaurants, all played off against endless vistas of desert. It's in this post-modern terrain that Hanks' Clay pursues his dream of the future.
If Eggers or Tykwer wanted to, they could have constructed a story that would be a contemporary "Death of a Salesman." Only this salesman doesn't die and he clearly hasn't learned his lesson. One can't help feeling that A Hologram for the King could be much more than it is. It's a film and a story that has the potential to be far more powerful than what we see on screen.
Written by Marc Glassman
Adjunct Professor, Ryerson University
Director, Pages UnBound: the festival and series
Editor, POV Magazine
Editor, Montage Magazine
Film Critic, The New Classical FM
Film programmer, Planet in Focus
Tune in to hear Marc Glassman's Art Reviews
Friday's at 9:07am on Good Day GTA.